Request a Demo
At one of our world-class showroom's in Johannesburg or Cape Town
Virtual bookings available on request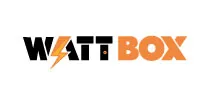 View More Brands
Think You Know Power? Think Again.

WattBox is designed to revolutionise the way you think about power. We deliver every form
factor you can imagine, remote management, a robust lineup of IP and traditional power
conditioners, surge protection devices, uninterruptible power supplies, and a suite of
accessories to help you complete the job.

WattBox is built on a hardware platform of professional-grade surge protection and OvrC,
the industry's #1 remote management platform. WattBox makes it easy to offer your
customers IP power solutions, no matter their space or budget. Every job needs power, so
every install needs WattBox.