Request a Demo
At one of our world-class showroom's in Johannesburg or Cape Town
Virtual bookings available on request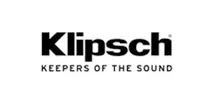 View More Brands
Klipsch is a high-end premium loudspeaker company that originated in Hope, Arkansas in the United States of America.
Klipsch Home Theatre Sound Systems
Klipsch specialises in all things home theatre such as floorstanding speakers, bookshelf speakers, centre speakers, subwoofers, surround sound and soundbars. Anything you would need to make your home cinema or home theatre room the perfect place for every movie night. Your life will never be the same after you experience Klipsch premium signature sound for the first time. We put 75 years of acoustic technology into our award-winning home theatre systems to give you an intense, fun experience every time you watch a movie or listen to music.
Learn More Here
Klipsch Wireless Speakers
On top of that, Klipsch has a wireless range which includes their portable speakers, tabletop speakers, voice activated speakers, soundbars, powered speakers and headphones. Great sound is a must. But, stereo wire can be a pain to install, not to mention unsightly. Whether you're looking to listen to music on your smartphone via Bluetooth or you want a complete surround system, Klipsch has your wireless needs covered.
Learn More Here
Klipsch Custom Installation
Klipsch also has a custom installation range which includes the in-wall, on-wall, in-ceiling, on-ceiling speakers along with amplifiers, behind the screen speakers, subwoofers, surround sound and an outdoor weather-resistant range.
Learn More Here
Klipsch Ranges
Klipsch has a few iconic ranges that they are known for; the
Klipsch Reference Range
,
Klipsch Reference Premiere Range
, and the
Klipsch Heritage Premium Audio
.
Only a select number of stores in South Africa have the privilege to sell the Klipsch Heritage Premium Audio range.
Currently, E-Piphany in Cape Town and Audioholics in Johannesburg are Certified Klipsch Heritage Dealers.
About Klipsch
Our founder, Paul W. Klipsch, was a mad man and a certified genius. He spent his life trying to bring the world better sound. We honour his legend with everything we create. Klipsch, one of the first U.S. loudspeaker companies, has been building premium speakers since 1946. When Paul W. Klipsch, one of America's most celebrated audio pioneers, founded Klipsch & Associates, he was operating inside a tin shed in Hope, Arkansas. Klipsch believes in a no b*llsh$t approach to everything. They want to be as real as possible. Paul Klipsch believed four principles to be the foundation for great sound. They continue to drive the design of every new Klipsch speaker, today and tomorrow: High Efficiency, Low Distortion, Controlled Directivity & Flat Frequency Response.