Request a Demo
At one of our world-class showroom's in Johannesburg or Cape Town
Virtual bookings available on request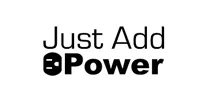 View More Brands
The Just Add Power company was founded in 1992 by a group of former employees from the IBM Corporation. The motivation behind the company and the name was to come to the market with an intention to totally support customers with applications that were easy to use. Just as important as easy to use, was keeping our focus on providing products that would protect the customer investment in a Just Add Power solution. The company has navigated through the last 22 years as a specialty hardware device company for niche markets.

With the 2009 introduction of the HDIP™ solution for distributing HDMI® over IP networks, the Just Add Power brand has now become well known across many new markets. Just like the VGA based training systems we first developed in the 1990's, the HDIP™ devices have all been designed to have a product lifespan that is measured in decades, not months. These days it seems like most technology companies are coming out with revolutionary new products every 90 days. The message to the user is "throw out the old one you bought from us not too long ago and get our latest and greatest today". This message is delivered by a sales force that fully intends to tell you to do the same thing again in the not to distant future. In our eyes this dedication to revolutionary product design just doesn't make sense when you are trying to build a video distribution infrastructure.

At Just Add Power our design and manufacturing philosophy is evolutionary, not revolutionary. For example, customers who invested in our 1G HDIP solution in 2009 can still purchase new Transmitters and Receivers in 2014 to expand and maintain their system. Most companies would be embarassed to be selling the exact same hardware several years in a row, but not Just Add Power. We take pride in having designed an infrastructure that can be sustained and manufactured reliably for many years. While our 2G solution does more today than it did when we launched the line in 2010, the exact same 2G Transmitters and Receivers can be bought today. We just keep making them better through free firmware updates. When we decide to add features that can't be done through firmware alone, we are careful to build new hardware with an eye towards backwards compatibility. This is best illlustrated by the popular 2G+ series, which can be mixed and matched with the original 2G models.

We take pride in knowing that our evolutionary product design philosophy not only protects your investment, an HD/IP system from Just Add Power actually increases in value over time.